olympian get tattoos as their pride and honour for their country.olympics tattoo designs are great in looks and they really gives a awesome looks .many olympians having many types of tattoos on their body some of which are related to olympic games .these olympis tattoos are having 5 circles interconnected to each other ..it is said that it is the combination of 5 countries who made olympic game .
The olymplic tattoos ,which is the mean of glory ,which is now the sign of true ,sporting success,seems to be the school of thought among the world's top olympic heros who have inked the trademark.
Branded:THe summer games are on ,and while the fit and sharply bodies, are creating a flutter ,the tattoos adorning them are equally in focus -the five olympics rings being the favourite .THese are clockwise ,from top right ,:swimmer DANA Vollmer ,gymnast jonathan horton,archer khatuna lorig,gymnast Marta Pihan-Kulesz and jessica Lopez,and an unidentified swimmer.
Athlete including Micheal Phelps,Ryan Lochte And Swimmer Elizabeth Beisel ,each Sport Tattoos of the logo on their bodies .
Micheal Pheleps Tattoo

Tattooing oneself with the instantly recognisable rings often occurs once an athlete has completed successfully at an olympic games.
pheleps ,who recently became the greatest olympian of all time after winning his 19 th medal , a gold in the men 's 2*400 m,sports a tattoo on his right arm,often seem in the pool when he perform the backstroke..
Female Olympic Swimmer Elizabeth Beisel ,another member of team usa .has her own version of the rings ,stampped onto her uppper right tight.
Elizabeth Beisel
US gymnast Jonathan Horton who won a silver medal in the high bar at beijing in 2008,is yet another tattooed sportsman. His upper back features an image of the rings as well as the letters 'USA'.
Jonathan Horton tattoo
Dana Vollmer ,a gold medalist ,has a tattoo of the olympic rings on the small of her back.
Dona vollmer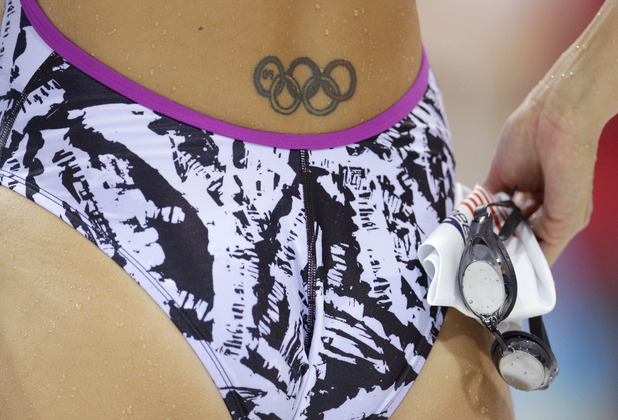 According:Canadian have also following the tattoo trend .long distance swimmer Ryan Cochrane has a tattoo of the ring on his left side of his upper back
Ryan cochrane
.he is an olympic bronze madalist .Female Swimmer Julia Wikinson has also been branded on her upper left thigh ,which is noticeable in her high waisted swimming costumes.
More Olympic Tattoo designs on olympian athletes
Olympic symbol as tattoo design
Olympic tattoo design on swimmer
U.S. Olympic track cyclist Adam Duvendeck
Olympic tattoo designs
Eric Shanteau Tattoo design
olympic tattoo design on thigs
USA's Garrett Lowney tattoos
olympic tattoo design on foot

olympics tattoos,olympics tattoo designs ,olympians tattoo designs,olympics 2012
Nathalia Sanchez of Colombia tattoos
USA's Rudy Garcia Tolson tattoos
olympic tattoo design
American archer Khatuna Lorig tattoos
olympic tattoo design
Linda Zublin of switzerland
American hurdler Joanna Hayes tattoos
Bryan Clay tattoos
these tattoos showing the love of athletes with olympic and show that love with their countries .these olympians choose tattoos according to their game ,which they plays like pheleps having a dolphin design with olympic rings.they choose tattoo design for a perfect places ,like on back ,on hands ,on sleeve,on foots.etc.
olympics 2020,olympic tattoo designs,olympians tattoos,olympic symbol